Call Tracking for Google Ads Location Extension
Call Tracking for Google Ads Location Extension is a powerful tool in your marketing arsenal, offering a comprehensive understanding of how effectively your ads drive phone calls. By adding a Location Extension Call Tracking number to your Google My Business profile, you can tap into valuable insights to refine your advertising strategy.
Each call that is generated from a paid source, that clicks on your location extension will be tracked in your Clear Ring dashboard.
Getting started with Call Tracking for Google Ads Location Extension requires two key things:
A Clear Ring account: If you don't have one yet, you can easily get started here.
Admin access to your Google My Business location.
Once you're set-up, follow these steps:
Step 1: Create a Tracking Number
Log in to your Clear Ring account and navigate to 'Tracking numbers.' Click on 'Create New Campaign' to generate a tracking number for your Google Ads Location Extension.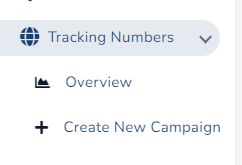 Label this new campaign something relevant, like 'Google Location Extension.'
Choose your desired area code or opt for a freephone number, then click 'Generate.'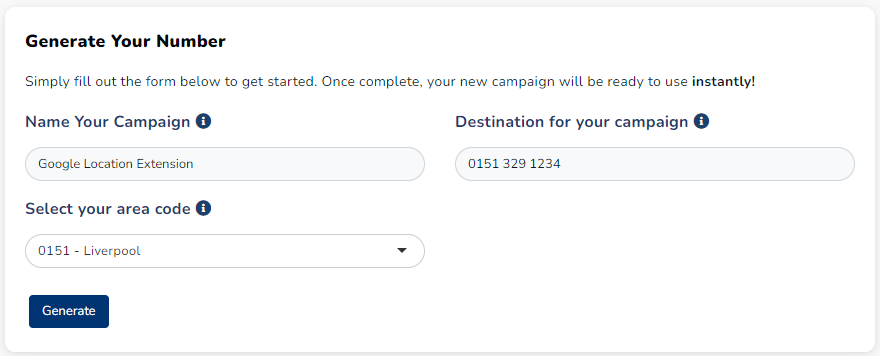 Step 2: Select a Number
You'll be presented with a list of available numbers. Choose one that suits your preferences. We recommend picking a number with an easy-to-remember pattern, such as double or triple digits. Select the number, then confirm your selection by clicking the green button.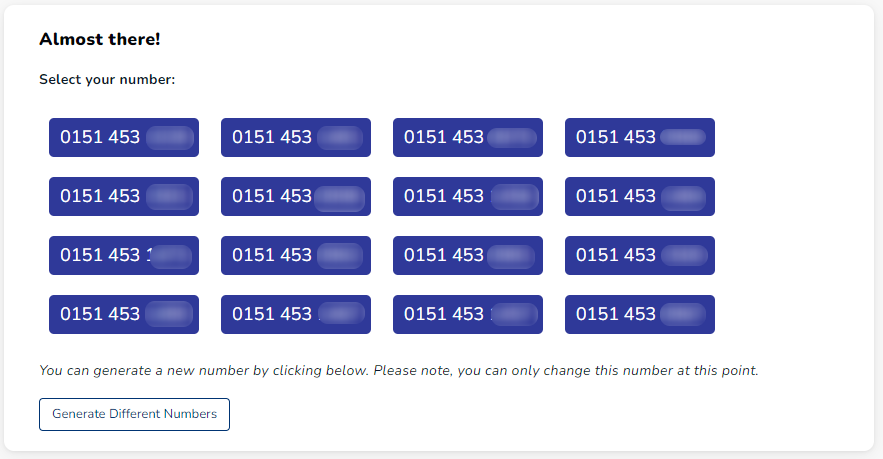 Step 3: Add the Number to Google My Business
Next, head over to your Google My Business profile. The simplest way to do this is by googling your listing name while logged into your admin account. Upon logging in and searching your business, the first thing you should see is 'Your business on Google.' Click the three dots, then select 'Business Profile Settings.'

From there, click on 'Advanced settings' and scroll down to where it says 'Google Ads phone number.'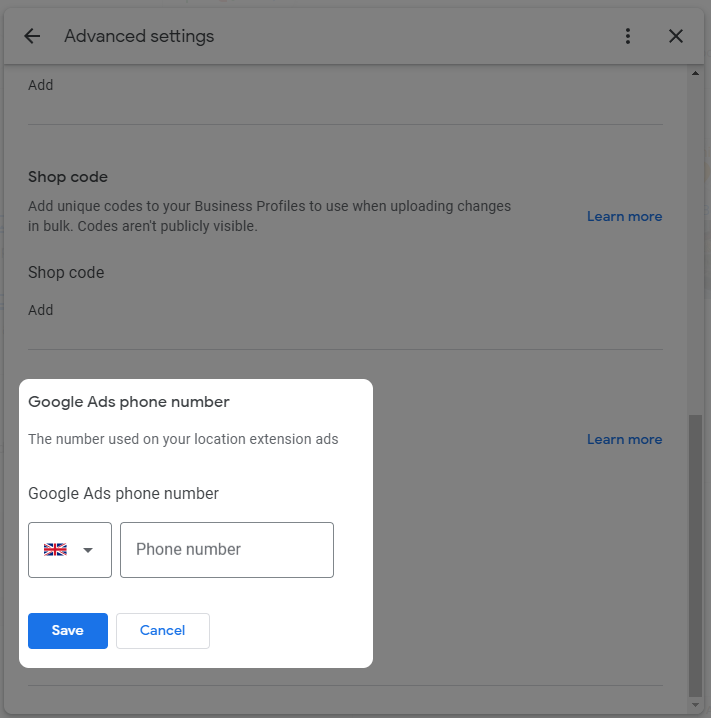 Step 4: Apply the Tracking Number
Paste or type in the tracking number you created in Clear Ring, then hit 'Save.'
And voila! You've successfully set up Call Tracking for your Google Ads Location Extension. This will now provide valuable insights into the effectiveness of your call ads and location assets, helping you optimise your ad campaigns.
Get a FREE presentation of Clear Ring
Get a live demo with one of our product specialists so you can ask questions and get all your queries answered.
Continue reading for more tips
Find inspiration in our latest posts
Call Tracking for Google Ads Location Extension Call Tracking for Google Ads Location Extension is a powerful tool in your marketing arsenal, offering a comprehensive understanding of how effectively your ads drive phone calls. By adding a Location Extension Call Tracking number to your Google My Business profile, you can…
How to track phone calls from Facebook Facebook, now known as Meta, has become an essential platform for businesses to reach potential customers through targeted advertising campaigns. However, to fully optimise your campaigns and track every outcome, you need a comprehensive call tracking solution. In this article, we'll explore why…